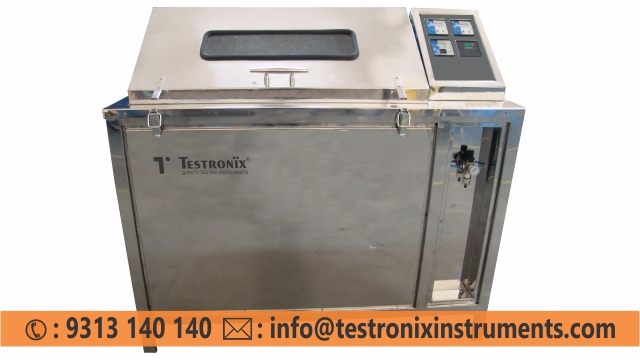 The corrosion atmosphere testing that has been conducted by Testronix Testing Instruments is touching close to four decades. Salt spray chambers or Salt Fog Chambers by this company are not only easy to use and maintain but also known for the accuracy that is necessary to meet today's demanding corrosion testing. These machines create three types of environments salt spray, high humidity, and air drying at any given temperature within the chamber. Moreover, any combination of these environments can be customarily programmed, in any order, to form a corrosion cycle. Such a cyclic corrosion test chamber comes with a long list of key specifications.

Key Specifications:
| | |
| --- | --- |
| Display HMI Based Touchscreen | 7" TFT LCD Color Screen |
| Chamber Temp. Range | Ambient to 60º C |
| Chamber Temperature Range | 49ºC ± 2ºC |
| Chamber Temperature Least Count | 0.1ºC |
| Chamber Temperature Repeatability | ± 1ºC |
| Air Saturator Temperature Range | Ambient to 65ºC |
| Air Saturator Temperature Least Count | 0.1ºC |
| Air Saturator Temperature Repeatability | ± 2ºC |
| Temperature Control | Inbuilt PID Temperature Controller |
| Timer (Hour Meter) | 6 digits |
| Test Air Pressure | 0.7Kg/cm² - 1.7Kg/cm² |
| Air Regulator | 0 to 30 psi |

Inside labs, corrosion tests are used for the selection of materials and their surface protection. Testronix cass corrosion test chambers can suitably predict corrosion resistance of materials such as a variety of coatings. These chamber models and are designed and developed to meet the widest possible range of industry standards. The Testronix machines meet international standards, such as ASTM B117, that can be used with pH-neutral salt solutions (NSS). There are others that are acidified by the addition of Acetic Acid (ASS) or Cupric Acid (CASS). There are three types of models that are duly trademarked by Testronix Testing machines that are most suited for Cyclic Corrosion Cabinet.
Korrox – 250
Korrox – 450
Korrox - 1000
The Korrox Models are made of strong fiberglass with one Fog Collection Funnel easy-to-gather internal size and external size specifications laid out in MM. Furthermore, these models flaunt an Air Saturator Water Level Low Alarm. Another type of alarm is Over Temperature Alarm that buzzes even if the temperatures rise slightly above the stipulated requirement. There is a feature of Air Purge that is both automatic and manual as per the convenience of the tester. There is also an availability of Air Saturator that has an auto refilling system along with a reservoir float system.

Conclusion
Testronix Korrox models have a built-in quality system that accounts for the success of the models in the market. These promote the procedures like Salt Spray Test and Cyclic Corrosion Tests. To know more about the comprehensive range of salt spray testing chambers.