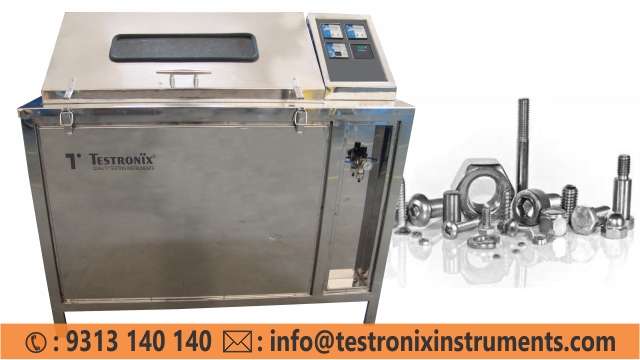 The process of product decay can most definitely be ascertained via a testing procedure applied to the ferrous part of the product. The product degradation testing process helps predict the potential lifespan of a product or ferrous coating that may be used on a specific product. The test results recorded through the process of salt spray testing can show all this and much more.
Testing that predicts durability
Testronix Salt Spray Test Chambers are developed with utmost adherence to the map the scales of International Standards as per ASTM B117 and JIS Z 2371. The NSS or Neutral Salt Spray Test is used to conduct on Meta Surface Coating. Corrosion test chambers manufactured by Testronix Testing Instruments are used to generate quality testing and are mainly used to test a product or material in a highly corrosive environment. This is done to evaluate the long-term ill- effects of the salt on a ferrous object or a product and to define its ability to withstand the effects of corrosion.
The excellence and standard quality that defines the corrosive testing machines easily help the users to evaluate their respective product quality and reliability. This helps in the identification of many flaws that can be categorized as major or minor by the manufacturer. Testing a product before the manufacturer actually launches it in the market defines the product versions and cost-effectiveness too. This is where the corrosive testing of Testronix testing chambers becomes significant for all those manufacturers who are dealing with ferrous materials and products.
Specific functioning that produces quality testing
The functioning of the Testronix salt fog chamber entails the usage of a salt-laden spray within a sealed test chamber. This results in the creation of a salt fog that is composed of mainly sodium chloride (NaCl). The fog is normally produced by a high-pressure nozzle that checks the corrosion resistance of product coatings. These coatings are used in products that are usually made from steel, brass and other metals. Protective coatings work as a barrier between the metal and the corrosive elements that produce rusting and future decays. Commonly used coatings that are often tested in salt spray chambers include:
phosphate surfaces
zinc and zinc alloy plating
electroplating with chromium
copper and tin
organic coatings
painted coatings
Salt spray testing includes automotive, construction, aerospace, and other industries that make use of ferrous materials. A complicated process of replicating corrosion is with due susceptibility of it being further affected by other external factors is the major usability of salt fog test chambers. This makes fog testing devices relatively cost-effective and mandatory to acquire for product predictability.
Conclusion:
After much consideration, the design and construction of the salt spray test chambers Testronix salt spray chambers are carried out to bring the best for its customers. The life span of a product or ferrous coating is enhanced with rigorous testing provided by Testronix machines. To know more about the comprehensive range of salt spray testers.