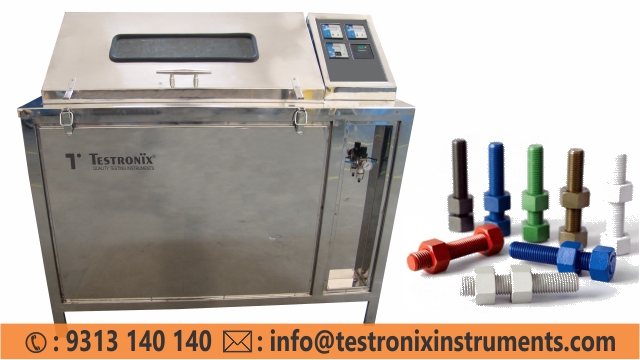 The impact of competitive pricing is always advantageous for the players, across industries – just like Testronix Testing Instruments that manufactures corrosion testing instruments amongst host of other testing devices. The company specializes in both standard and customized models of Salt Spray Chambers since about four decades. A special touch in every chamber sold provides customer delight.

Pricing that suits the customers
The specially designed Salt Spray Chamber in India by Testronix Testing Instruments are designed to meet various special requirements of our customers across India. This calls for efficiency in the product that exactly suits the customer's requirement. Salt Spray Chamber tests materials in a highly corrosive environment in order to evaluate the long-term effects of corrosion on an object. This also defines its ability to withstand the effects of corrosion in multiple domains and environments. This leads to offering effective pricing so that the users receive the maximum benefit out of the price offered.

The cost-effectiveness is the most attractive factor Salt Spray Fog Tester, which is elegantly designed as per the relevant standard in order to evaluate rust-proofed components to withstand corrosion on ferrous materials. Similarly, the triple-walled salt spray chamber is fitted with glass wool is fairly priced but optimally beneficial for the customers. There are trademarked models that are specially designed to meet the customers' requirements that mark effective cost. The cost-effective Salt Spray Cabinets price comes as the following models.
Korrox - 250 : with an internal size of 800X500X550 and external size of 1970X990X1240
Korrox - 450 : with an internal size of 1000X700X750 an external size of 2200X1150X1550
Korrox – 1000 : with an internal size of 1600X700X800 and an external size of 2750X1170X1650

In order to test a product or material in a highly corrosive environment for the purposes of evaluating the long-term effects of salt on an object, corrosion test chamber price is notably competitive in the hands of the manufacturers. Angular open type lid with large viewing window facility to observe samples under testing gives a fair satisfaction to the users. The updated models of Salt Fog Test Chamber specially designed for evaluating the corrosion resistance of the surface treatment are in for customer budget satisfaction too.
Conclusion
Corrosion testing on ferrous materials can now be afforded with competitive pricing endorsed by Testronix Testing Instruments. Providing the best features that are equipped to support customer pockets, the Salt Spray Test Chamber is set to rule the market expectations. To know more about the comprehensive range of salt spray testers.