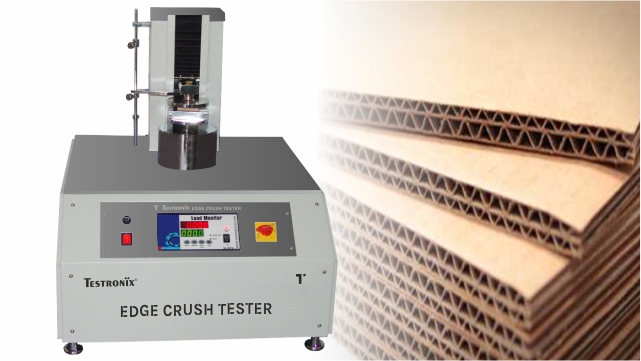 Corrugated sheets are used as packaging material and has numerous properties to assess the standard of a specific product. Some of the instruments required to measure the quality are edge crush test value or ECT value, compression strength, bursting strength etc.
Edge crush test is a test method which helps in evaluating the cross-direction crushing of a sample of corrugated board. The machine measures the crush resistance of a specific sheet material. It helps in measuring the peak to bottom compression strength of empty single wall regular slotted containers in laboratory conditions. The edge crush tester is a highly sort after instrument and is used to measure accurately the ECT value. The equipment adheres to all standards launched by international bodies.
The advantage of using an edge crush tester in the lab for quality checks is that it provides consistent and accurate results. The edge crush tester is the most advanced model in the industry and is a must use equipment for packaging manufacturers. It helps in measuring and analysing the quality of boxes when subject to external pressure from the edges.
Testronix 's Edge Crush Tester is a precise tool utilised which helps in measuring the crush strength of cardboard boxes and packaging containers. It is used under Testing Standard of IS 7063. The most popular machine for the test is Edge Crush tester. The following are the 3 types of tests which can be performed with the help of the testronix ECT machine:
Ring Crush Test
Edge Crush Test
Flat Crush Test
The testronix ECT is a digital version based upon chip based program. Testronix is the premier manufacture for the edge crush tester and provides the same at affordable prices. The quality and durability of the machine are state of the art as it is made of mild steel powder coated rust free material.

For more information regarding the packaging testing instruments manufactured by testronix visit the website https://www.testronixinstruments.com/paper-packaging-testing-instruments/ or contact +91-9313 140 140.