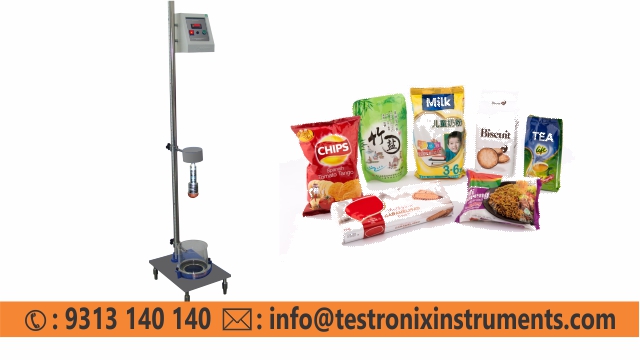 Paper and packaging industries have a special range of testing such as testing tensile strength, burst strength, peel test, and the like. Another kind of testing is dart testing that happens to check the free-falling dart on a plastic film under certain conditions. Testronix Instruments brings dart impact testing machine, an ace product for its customers that is designed as per international test standards, apart from being an ace manufacturer of all kinds of testing instruments.
This impact testing machine, a compact and consistent kind of dart impact testing uses the force of the falling dart actually ruptures the plastic film determines that under certain conditions. This checks the film or the plastic sheet below whether it needs to be more resilient or not. Plastic film manufacturers often ensure that this film is strong enough to withstand the impact of any external forces falling on the plastic.
Testing with a quality product makes a difference
Testronix dart impact tester ensures quality standard adherence. It is built as per the standards of International Standards Organisation (ISO) and American Society for Testing and Materials (ASTM) standards that guarantee the generation of accurate results. The testing equipment is designed to offer the highest level of accuracy and precision consistently.
Built on a rigid metallic base the tester is strong enough to last long. This feature gets further strength with powder-coated mild steel material that the body is made up of. The accuracy of this instrument is enhanced via the electromagnetic hold and release mechanism for the dart. Moreover, the drop height clamp is adjustable and suits customisability. The circular annular clamping devices are designed in order to maintain zero slippage. The dart impact tester comes with a dimension of 415x500x2153 mm, which means space is never going to be an issue.

Noticeable specifications of dart impact tester
Inside diameter of clamp is 127mm
Electro Magnetic Release Mechanism with a hold/release mechanism
Diameter of dart head 3
Method A – 38 mm
Method B – 50 mm
Height of fall is adjustable as per 660 mm and 1524 mm
Maximum weight holding capacity of Dart Holding Mechanism is 2Kg
Circular annular clamping unit with zero slippage
Single Phase of 220 V AC
Conclusion
In order to secure best results, the dart impact testing machines brought in by Testronix Instruments are known for dart checks help to analyze various plastic films that test the required dexterity. To know more about the comprehensive range of dart impact testers.