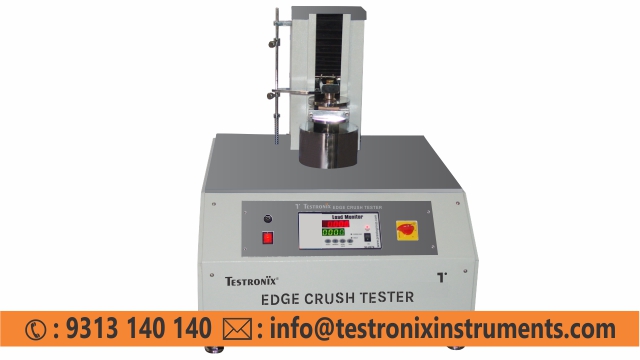 Edge Crush Tester or ECT is one of the two predominant methods, primarily used to test the strength of a corrugated sheet. Manufactured by Testronix Instruments, the crush tester is used to exactly tell you how much weight will take to actually crush the box which is made up of a corrugated sheet. This testing machine determines the edge test of the corrugated sheet to test how much weight will crush it down by applying the weight to the edge of the sheet.
The instrument measures the cross-section crushing of corrugated cardboard to determine the ability of a sheet of corrugated cardboard to resist crushing forces. The greater the resistance, the stronger is the sheet. Once you arrange your corrugated sheet onto the tester, you measure the bursting strength in kilograms per square centimeter, which will give you the bursting factor as a thousand times the bursting strength. This will be then divided by the grammage of the board that is being tested by the crush tester. Testronix Instruments Edge Crush Tester gets manufactured under Test Standard IS 7063.
Why use crush tester?
The testing instrument has usability features that gives it an edge over other similar testing tools available in the market. It also features as Ring Crush, Edge Crush, or even a Flat Crush Strength tester that measures the rigidity corrugated sheet, edgewise. Other features include:
Microprocessor-based display for accurate testing results
Display for compression strength of test sample
Separate fixtures provided for ring crush, edge crush and flat crush test.
Highly accurate test results taken under a compression force
Strong gripping clamps that hold tight
Bright LED display makes easy readability
Inbuilt calibration facility provided
Feather touch controls are a boon to be working with
The edge crush tester comes in two models as manufactured by Testronix Testing Instruments. This depends on the usability of the customers too, which one do they need as per the requirements. The first is the Computerised model and the second is the Digital model with printer facility. This gives a ready chance for taking hard prints of the testing displays for future references.
Conclusion
Testing instruments have a vital role to play in maintaining the quality of your products. Crush testing comes as a quality laboratory test method used to measure the cross-direction of crushing of a sample of corrugated board. To know more about the comprehensive range of Edge Crush Tester.