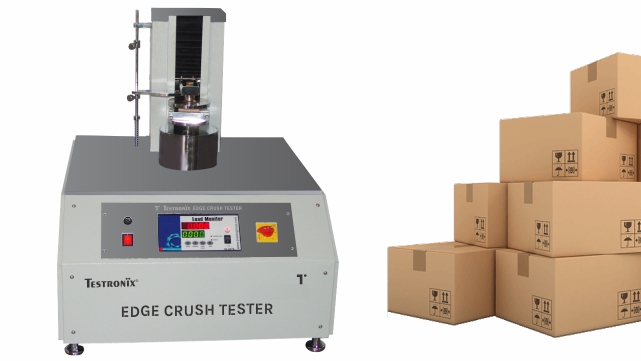 Are you looking at performing the edge crush test and obtaining a certified Edge Crush Test box? But searching for a reliable Lab testing Instrument for this test can be challenging. So, Testronix is here to help you!
The ECT or Edge Crush Test measures the ability of corrugated cardboard that offer safety to goods during storage or transportation. It plays an important role in Paper and packaging industry as it helps to evaluate the compression forces a box can bear so as to provide safety to the goods and products.

Get a competitive market price for Edge Crush Tester Digital at +91-9971040808 or +91-8595944214. You can also email us your query related to testing instruments @ info@testronixinstruments.com.
What is An Edge Crush Test?
In the Industries like Paper and packaging, ring crush test (RCT), the flat crush test (FCT), the edge crush test (ECT) methods are used to measure the cross-section crushing of corrugated cardboard. This test offers the necessary information regarding the ability of corrugated cardboard against crushing forces. It helps to manufacture boxes, packages and other products taking into account the material's protective capabilities. In other words, this test provides the information of box's strength and resistance to the crushing forces.
Advantages of Edge Crush Tester
This Laboratory Testing tool for cardboard manufacturers to perform a quality control, and to test the protective ability of their raw material.
The advantage of Edge Crush Tester Digital is that it recognises the safety measures of a box for transport goods. It becomes possible to determine the exact amount of weight or force a corrugated cardboard can bear. In other words, it will ensure the protection of goods for a quality result.
Measure the strength of Corrugated Box with Edge Crush Test Digital
The ECT or Edge Compression Test method evaluates edgewise compressive strength of a single or multi layered corrugated cardboard or paper.

Testronix is one of the trusted testing machine manufacturing companies in India to provide you globally certified Edge Crush Testing Machine with various safety features.

The Edge Crush Tester Digital by Testronix Instruments gives you an accurate idea of a box's strength while stacking and shipping. At Testronix, we have been helping paper and packaging industries to and guarantee the protection of the goods.