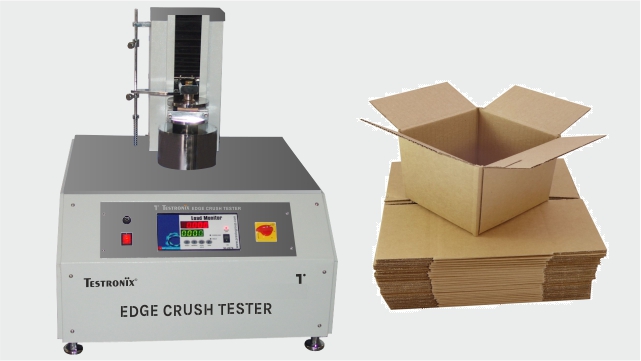 Cardboards are have an unlimited application in the packaging industry and manufacturers always face the only challenge of maintaining the quality of the material manufactured by them. The corrugated/ cardboards used as packaging material must be of superior quality so as to resist the extreme load from external forces. To test the quality of corrugated boxes one of the tests is the edge crush test which has utmost importance.
Manufactures must test the quality and strength of the materials such as cardboard, corrugated sheets and others such material used as packaging material. Beside the edge crush tests there are other tests which also help in determining the quality of corrugated boxes such as Ring Crush Test, compression test, drop test and many more that can be used for assessment of the quality and strength of the products.
When manufacturers talk about the edge crush test it is utmost necessary to test the edge of the wall of a box. These boxes when subjected to pressure during transportation and stacking which deteriorate the quality of boxes. The boxes must be durable from the edge and must not crush so as to provide 100% protection of the material inside the box.
The edge crush test analyses the amount of pressure which can be borne by the edges of a corrugated box. The durability of corrugated material depends on various factors such as edge crush test, bursting test, the combined weight of the material, outer dimensions and a maximum weight of contents. These boxes are used to ship contents such as apples to a washing machine.
The testronix edge crush tester is a unique instrument widely used in paper and packaging industry. The testing procedure comprises of a sample being cut in square shape and made to stand edgewise force is then applied by the instrument and the ECT value is then calculated accurately.
The testronix edge crush tester guarantees accurate results and is a state-of-the-art machinery which is a must for the packaging industry. It calculate and analyses sufficient data about the sample under continuous working conditions. Testronix is a world class manufacturer of the edge crush tester.
All testronix instruments are high quality and ensure data repeatability by providing the user with consistent results.

The testronix edge crush tester also adheres to all industry standards and offers the highest level of precision when it comes to test results.
For more information regarding the packaging testing instruments manufactured by testronix visit the website https://www.testronixinstruments.com/paper-packaging-testing-instruments/ or contact +91-9313 140 140