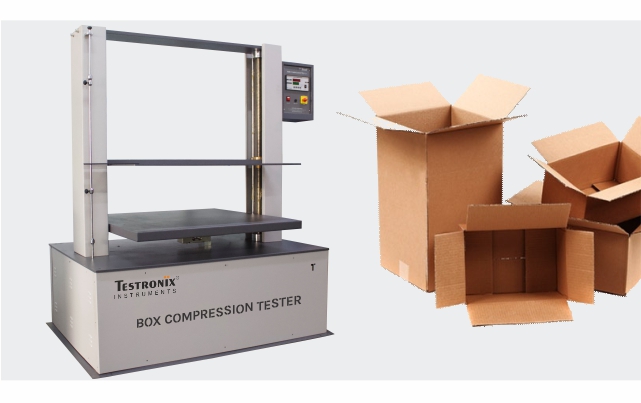 Are you a manufacturer of cardboard or corrugated boxes? Are you looking for a Digital Box Compression Testing Instrument? If you are looking for an economic yet quality Laboratory Testing Machine for your manufacturing unit, you can trust Testronix. The company avails globally certified testing instruments with many safety features. Get competitive market prices for digital Box Compression Tester only at Testronix. Make a call at +91-9313 140 140. You can mail us your query at info@testronixinstruments.com. Why Check Compression Strength of a Box or Container?
Quality is one of the major aspects of consumer's world. So it becomes priority of a producer to provide it from the core. There are many industries that strongly depend on the ability to calibrate a material so that it can withstand pressure or forces. Deformation can affect the quality of a product placed in a box or container. To avoid the stacking in the warehouse or during transport, a test is performed in which the compression forces are exerted on them. The compression strength test helps to figure enough information to make decisions concerning the packaging. In other words, it helps to determine or to choose the right container with the right resistance. As it will help to maintain the integrity of a product during storage and transit, the Box Compression Strength Test becomes an important part of quality testing. How to Measure Compression Strength of Corrugated Box?
Box compression test or container compression strength test is necessary for most of the industries to avoid any losses due to damage to the product, especially during storage and transportation.

Along with choosing the right compression testing machine, following steps help you to measure compression strength of container:
Place the test on the testing platen.
Adjust the constant pressure that exerts pressure on the unit being tested.
Testronix comes up with a state-of-the-art testing machine that is designed to determine the compressive strength of cardboard or corrugated boxes with accuracy.
Why Digital Box Compression Tester by Testronix? Testronix has a remarkable presence in the market of Lab Testing Equipment. The company assures to provide the quality testing machines with Global certification. Features that define the excellence of Testronix in Box Compression Tester are as follows:
Works on the motor system
Digital Indicators to show load
Load Sensor
Speed Drives
Safety Limit Switch with Manual Lock
Powdered coated key parts
It is available in 3 platform size model. Along with these advantages, the company assures you to provide budget-friendly testing machines with quality assurance.