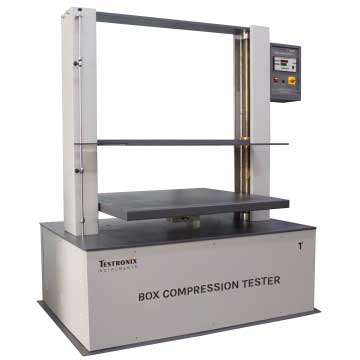 Packaging plays a significant role in the effective conveyance and safe delivery of products. It is very necessary that the package should be such that it is competent enough to withstand the compressive forces it gets exposed to during transportation.
How to check Compression Strength?

Box Compression Tester is the equipment which is extensively used in the industry, to determine the compression strength or stacking potential of packages. The package could be in the form of cartons/ paper tanks/ beehive crates/ paper cases or corrugated boxes.
Testronix Box Compression Tester is a state-of-the art equipment, designed specially to calculate the compression strength of the box. Depending on the type of packaging, the weight range is chosen to completely crush the sample under test. It is the best quality offered in India, at a reasonable price.

This is done with the help of a predetermined load, which is applied for a given time period. The load at which the sample fails gives an estimate of the stacking load it can withstand. The equipment functions with the help of motorized arrangement.
Procedure of testing using Testronix Box compression Tester
This is a reliable and rugged instrument, which is fitted with user-friendly controls.
Packages such as cardboard boxes should have an adequate compression strength, so that they do not get crushed when placed one above the other during storage. During this test which is performed to evaluate the Compression strength of a box or carton:
The sample is placed on a rigid metallic base plate.
It is then pushed down from the top with the help of concurrent movable plate.
Fitted with a digital indicator and a pre-fitted computer system, the Testronix Box Compression Tester is highly accurate and reliable.
The load at which the sample collapses is a measure of the compression strength. It can be measured digitally and in graphical format, as well.
The final load is noted and can be used to analyze the quality & strength of packaging.
This valuable information regarding the box compression strength of corrugated boxes, paper cases or crates using box compression testing can be additionally used to compare and evaluate the compression strength of various kinds of boxes/packaging materials.
Manufacturers find it essential to quantify the compression strength of boxes/packages so that they can estimate its quality, and make necessary changes to improve the same in precise manner.
Testronix Instruments is renowned for making top of the line laboratory testing equipment for quality control and material testing. Testronix is known to be the best Box Compression Strength Tester Manufacturers in India.
For further assistance and price in India, please Get a Quote Or call +91-9313 140 140 for more details and customization of the equipment.