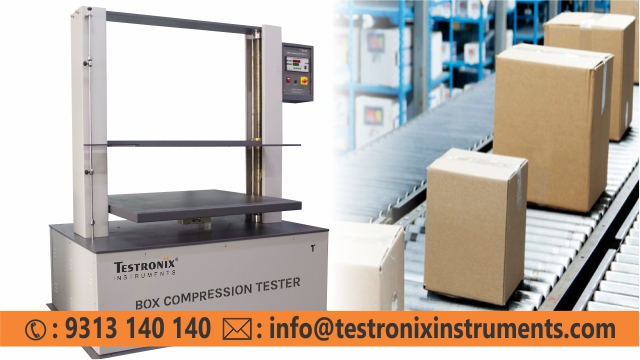 Packing goods is helpful as it protects the goods from damage during travel . A Compression tester test is used to test the compression strength of these packing boxes.
Box compression test checks how much load the packing box can carry. They are suitable for those involved in the distribution chain and for the raw as well as finished material manufacturers
As a result of globalization, demand for commodity prices has skyrocketed. Therefore, product quality and packaging style have changed to satisfy customer demand. Therefore, determining the quality of materials used and measuring the suitability of packaging products in terms of its performance to protect the contents inside has become an important issue for packaging manufacturers. Box Compression Test measures the compression capacity of packages such as cans, barrels and boxes. The compression force is controlled by the durability of the paper board and the compression strength.
In Compression Strength Tester, the system consists of a set of plates in which a load balancing arrangement is inserted and the other is a moving plate. The conveyor plate is moved by a gearbox and a screw and a nut arrangement. The load Indication arrangement is digital. The sample is placed on the bottom plate and due to the movement of the moving plate the sample box is pressed and the load can be read in the digital LED Indicator.
Testronix's Box compression tester is a high-performance and efficient machine to measure the compression strength of corrugated boxes & Pallets . It checks the maximum power that the box that can withstand.
For More Details mail us info@testronixinstruments.com or Call us 9313140140