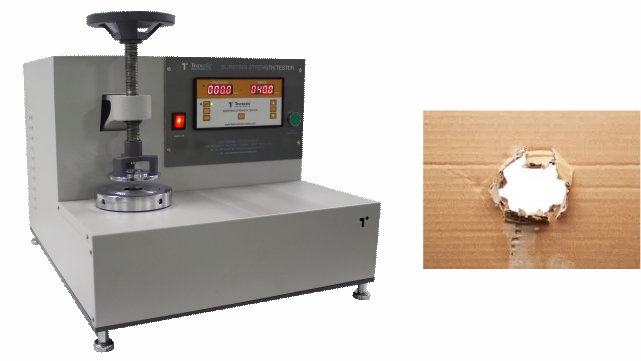 The packaging industry has a wide reach and has unlimited scope. Hence ensuring quality and maintain standards of the packaging material is utmost important and crucial. Many materials are used to manufacture corrugated boxes and the worthiness and durability of these corrugated boxes must be checked beforehand.

During the process of warehousing and transportation in the industry these corrugated boxes bear various kinds of forces externally. Hence it is important to ensure that these boxes can withstand these external forces and can successfully protect the materials inside the box
So as to ensure the durability of these boxes the manufacturers need to analyse and calculate the bursting strength of these boxes.
The bursting strength of paper or corrugated sheets refers to the amount of the force that the sample can bear without bursting or rupturing. Bursting force has to be applied on it in the normal direction to its plane which helps us in ascertaining the value of bursting strength.

Bursting factor = Explosive power (gf / cm2) / Grammar (gf / m2)
To solve this problem of manufacturers testronix has launched the best bursting strength tester. Testronix has been a renowned manufacturer of bursting strength tester and has been successful in supplying their products to the best of manufacturers. The testronix bursting strength tester ensures constancy and accuracy at all times.

Testronix being the No.1 manufacturer has also launched the bursting strength digital model which further improves customer satisfaction and repeatability
This state of the art machine operated on the latest techonology and comprises of a ring compression mechanism to provide 100% grip on the sample which has to be tester. The rubber diaphragm is another medium for applying pressure on the sample and holds utmost importance.

This instrument has the feature of a single push button operation making it user friendly and easy to operate.
Testronix bursting strength tester adheres to all industry standards and is the best option for your lab to test the packaging worthiness of your corrugated boxes.