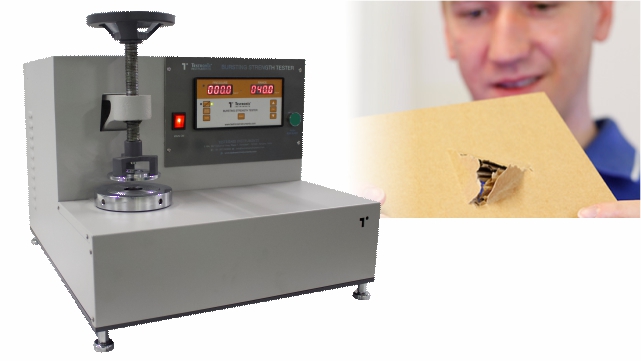 The paper and packaging material passes through strength tests to ensure the quality. The high-quality lab testing equipment by Testronix ensures the Best Digital Bursting Strength Tester for your company. It is the best way to determine the durability, quality, and performance of the material.
The company has a remarkable position in the market for its globally certified testing machine, economic price and customer support services.
Get competitive bursting strength tester price by reaching us through a call at +91-9313 140 140 or send us your query through an email at info@testronixinstruments.com.
Bursting Testing Machine Uses
These testing instruments are used to measure the resistance to rupture or burst materials like paper, paper boards, corrugated boards and boxes, solid fiber boards, filter cloth, industrial fabric, Leather etc.

These tests are helpful to prove the quality, durability, performance, and strength of the material. Industry experts suggest the bursting strength test as the Mullen test because its testing procedure is commonly called Mullen Burst Test.
How Does It Work?
The working principle of Bursting Strength Tester is hydraulic pressure. The testing machine comes with rubber diaphragm and a digital readout of pressure with a peak hold facility. The hydraulic pressure is applied through a rubber diaphragm at an increasing rate until it ruptures the material.
It measures the value of bursting strength tester in Kg/cm2.
The Lab testing equipment by Testronix follows all the industry standards to provide the accurate results. It adheres to:
ASTM D 3786-80a
ASTM D 3786-01
ISO 1060 PART-1 1987
Why Choose Bursting Strength Tester by Testronix?
Testronix is proud of being the right choice of hundreds of happy customers. The company is crafting a new height of success by providing high quality testing instruments in the market at economic rates. Choose Bursting Strength Tester by Testronix because it has:
Intelligent algorithm to control the bursting time.
Accurate test result display system based on Microprocessor.
Equipped with Peak Hold memory for keeping maximum value of test result
Strong Clamps that give reliable gripping.
Sculpted Test Specimen Holder to provide firm grip
To know more about Digital Bursting Strength Tester, Contact our experts at +91-9313 140 140 or send us an email at info@testronixinstruments.com.