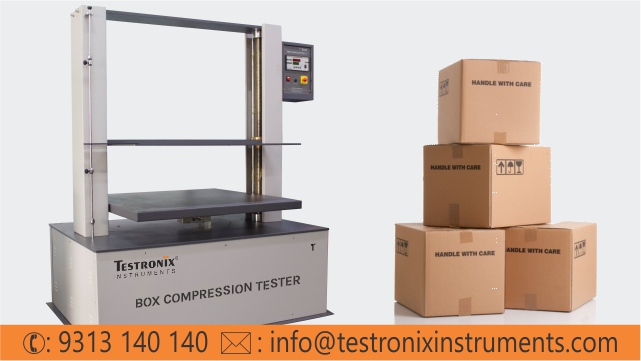 Every business will ship the finished products to their customers at different locations. In the transportation and shipping process, packaging plays a very important role. A good quality corrugated box will deliver your product to your customers without any damage. Thus, you should ensure the quality of your corrugated boxes with the help of a box compression tester from Testronix Testing Instruments.
This amazing testing instrument will help to test the compression strength of the corrugated boxes to check if they can withstand the external forces or not. It is very important to make sure that the packaging material you are using should provide your product with the maximum protection to the packaged material. This will prevent damage at the time of transportation.
Although these packaging materials will be different from each other but can easily be tested with the help of this testing machine. The more fragile product you are packaging, the more protective layers it would need. Thus, you should make sure that the material you use would be of high quality that would protect the product in one way or the other.
Now, you get the idea about the box compression tester from Testronix, you can easily go through the benefits of using this testing equipment. We have created a list of benefits for the box compression testing instrument below.
Amazing benefits of box compression tester that you should know
We all know that the products you deliver to your customers have to come under several stages of transportation. From shipping through rough areas to stacking under high load, your product will go through these stages. Thus, to make sure that it delivers the right way, you can easily take a compression test with the help of a box compression tester. This testing instrument by Testronix Testing Instruments will make sure that you will deliver the products to your customers in perfect condition.
So, read the benefits of using a box compression tester by Testronix for corrugated boxes.
Box compression tester will help you save time
Shipping your goods is a very serious business and if there will be any defect found in packaging then it would ruin the whole product quality. Most business owners make use of corrugated boxes to deliver the products with care. Thus, you can easily trust a box compression tester to test the strength of corrugated boxes with ease. This will also help to save your time while testing as it can be easy to use and is very reliable.
Great for any business that ships products
Those businesses that work with the packaging industry should make use of this box compression tester to make sure that the products delivered should not be damaged. It is very important for you to use proper packaging techniques and the right cardboard boxes to ship your products.
A foolproof way to test packages for damage
When you make use of a box compression tester for testing the corrugated boxes then you will easily test the damage in products. This effective testing machine from Testronix will make sure that the product delivered will not get damaged during transportation and shipping.
Helps in determining load capacity of materials
Another main benefit you will get with the use of this testing instrument is that you can easily determine the load capacity of the packaging materials like corrugated boxes. This is because this instrument is specially designed to determine the effectiveness of packaging material by adding compression force to it. Thus, you can easily get an idea about the load capacity of the packaging material that can withstand a certain force while stacking.
Easily test your package strength before opening it
With the use of a box compression tester from Testronix, you can easily determine the package strength of the material. If you are shipping any heavy material, then we suggest you make use of hard cardboard boxes. This will ease your work of transportation and packaging. Thus, you can store your packages easily by determining their load-bearing capacities.
These are some of the amazing benefits of using the box compression tester testing instrument by Testronix. Order this precise and highly qualitative instrument now so that we can help make sure your products are always in tip-top shape!