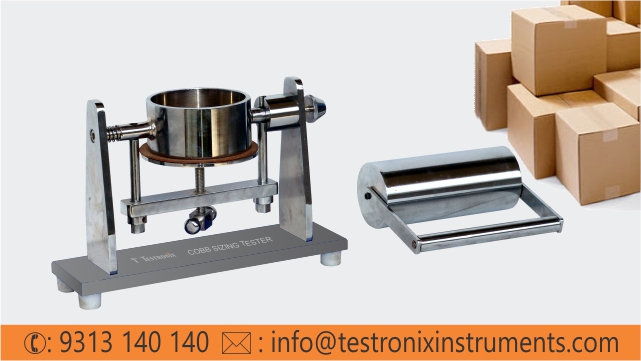 Testronix Cobb Tester is used to calculate the Cobb resistance of the paper or a fibreboard. Manufactured with care and precision, the testing instrument consists of a brass cylinder. This cylinder can also be made up of gunmetal. The cylinder has a metallic plate attached, which is used for clamping one side of the cylinder with the help of a bracket and bolts. A rubber sheet is pasted on the metallic plate, which ensures perfect clamping.
The entire assembly of the cylinder and clamping arrangement is pivoted, which enables fast pouring off the water in order to quicken the process. The instrument comes with a brass roller in accordance with the size and shape of the testing machine. The components are brightly polished with a bright chrome plated.
Cobb Value ascertainment
The Cobb Value is used to show the information about the water absorption capacity of carton board samples. The Cobb test provides value in units of grams per meter square. The standards of testing use the DIN EN ISO 535. For packaging that may undergo moisture or water exposure in transit or otherwise, it is best to test the packaging material first. Those boards that use low cobb value grades are the ones that are known to have low water absorption. This is the reason why low Cobb Value graded boards are more stable in high humidity as well. This proves the practical relevance of the cobb value testing.
The cobb value test determines the amount of water absorbed by the carton board sample. This sample is tested whether through one-sided contact with moisture or else both sides. A further requirement for determining Cobb Value is that the thickness of the material. While testing, it depends on the material to commonly adhere to a stipulated contact time of 60, 180, and 1800 seconds.
In order to achieve a certain cobb value, certain Cobb values of the carton board need to be sized. This requires the use of sizing agents or additives that are added or applied by two ways
Mass sizing
Surface sizing
Just as the cobb value provides information on the water absorption capacity of cartons or fibreboard samples, the cobb test determines the amount of water that is taken up by a defined area of carton-board. This is primarily taken through one-sided contact with water, during a definite time period.
Conclusion
Cob is a structural system that needs to be subjected to a number of accurate tests that would predict the nature, strength, and performance of cob as a building material to meet its end purpose. To know more about the comprehensive range of Cobb Sizing Tester.