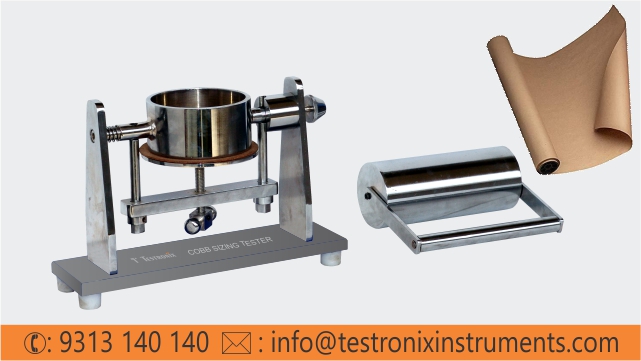 Box manufacturers ensure the safety of the goods that are packed inside by providing strong and durable boxes. However, the strength of a box can be at stake if the water absorption rate is much faster than it was originally intended. This can not only destroy the goods but also defeat the very purpose of packaging the goods and keeping them safe. This is why you need to have strong and corrugated boxes that can withstand external conditions. Cobb test can serve your purpose and show you whether your boxes will be able to withstand these external conditions at all or not. These can be weather conditions that involve rain and moisture or else transportation conditions too.
The dangers and risks involved can easily be taken care of in case you have Cobb tested your sheet of paper, cardboard, or corrugated board already. This is where the role of Cobb Testing comes into play. This would involve you going for a quality tester that gives you accurate results for testing sheets. Testronix instruments will bring you such testing equipment that will be precise and accurate in creating the best boxes for packaging industries.
Here in this blog, we are going to provide you information about the cobb sizing tester and how it will be useful in fueling your needs for quality control.
Need for Cobb Testing Instruments
The Cobb test is essential for the fast determination of the quantity of water absorbed by a paper or board in a given time. It results in testing the ability of the paper that resists the penetration of water and quantity of water absorbed by the given surface of the paper, cardboard, or corrugated board. In case these boards absorb too much water, the box may have difficulty maintaining strength and integrity. In many cases, the inner fluting results in separation from the outer linerboard if too much water is absorbed. This can result in entirely breaking down of the box. What if the boxed goods contained dangerous goods causing you major losses? This is where the role of Cobb Testing comes as a major savior.
Testing the risks with TAPPI
Since this test helps determine the quantity of water that can be absorbed by the surface of paper or board in a given time, the less water that absorbs into the corrugated, the better. In effect, as per § 178.516 of CFR 49 as well as TP 14850 7.8 this test is a requirement. Technical Association of the Pulp and Paper Industry or TAPPI standards define the testing procedures and related practices used for:
Measurement
Evaluation
Description of Pulp
Description of Paper
Related Products and Raw Materials

These standards products are used in the manufacture, use, or in scientific investigations of any such substances. This brings in Cobb Sizing Testing Instruments manufactured by Testronix Instruments that display strength and accuracy.
Conclusion
What's the most important thing when it comes to manufacturing? Quality control, right? That's why we have Cobb sizing testers, so you can make sure your products are up to snuff. Cobb sizing testers can be a boon for those associated with the packaging industry. Since these testing machines measure the amount of liquid penetration it is the best way to ensure the resistance of the cargo during transport.
The Testronix Cobb Tester is a simple, yet accurate instrument that can be used to determine the amount of water absorbed by paper or board at any point in time. It also assists in measuring liquid penetration into sheets of paper or cardboard accurately with its built-in timer and scales for easy measurement. We also have a variety of other testing equipment and supplies that will help your business thrive in today's competitive market!
To know more about the comprehensive range of Cobb sizing testers, please visit the product page of the website or if you need to find out more about our products, contact us today!