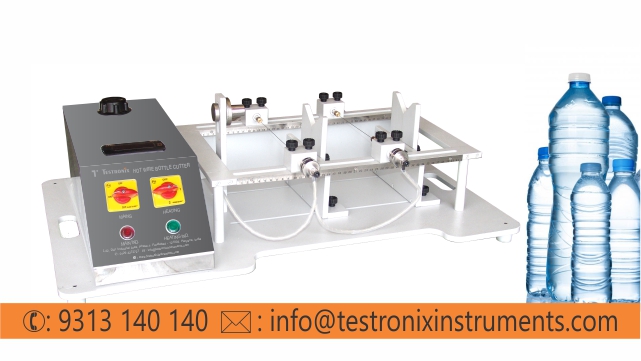 The PET & HDPE bottle manufacturers need to use state-of-the-art testing equipment to ensure the quality bottlenecks such as phase weight analysis, size, and even wall thickness, transparency, weight distribution, high load or compression strength, bottle torque, leakage integrity, many more. All the mentioned features must be fully satisfied for quality product delivery to the customers. In order to provide customers with the best products, PET bottle makers need to perform different quality tests on bottles that require high quality test equipment that gives good results to customers with a high degree of accuracy. The Hot Wire Bottle Cutter is a device that is mainly used in Pet industries for analyzing the quality of the products.
What is Hot Wire Bottle Cutter?
The Hot Wire Bottle Cutter is an important application in the PET bottle industry. The Testronix Hot Wire Bottle Cutter has an aesthetic design and provides easy operation for manufacturers. It helps to easily cut single parts of PET bottles. The shape and size of the bottles is a key factor in providing better safety for packaged products in bottles. It is also important to measure the weight of all parts of PET bottles. This process is known as phase weight analysis. For accurate statistics it is very important to have a hot cutting tool for hot bottle cutter. Testronix solves this problem by providing more precise devices at affordable prices. All instruments comply with international standards that provide a safe and secure test experience.
Working Principle
The main diagnostic procedure performed on PET bottles is Section Weight Analysis. The weight of the section is made to ensure uniform distribution of all parts of the bottles i.e. High, Med and Low to ensure the uniform distribution of the same items and the weight of all parts of the bottle by the size and shape of the bottle. For best results in phase weight analysis, it is compulsory to cut the bottle smoothly into different sections without distorting the edges of the sections. This type of testing is known as a destructive test.
How Does a Weight Analysis Test Help Quality Analysis?
Equal distribution and distribution of equal loads prevents bottles from falling frequently. But the question arises as to how you can determine if a drink or a bottle of beverage has an equal distribution of the load? A section weight analysis was performed to determine whether each component of the bottle was effective in tolerating the product load well. The PET industry needs to do a weight testing phase to ensure an even distribution of weight by cutting bottles into multiple sections smoothly. The best test tool used to cut bottles in a separate category is Hot Wire Bottle Cutter.
Applications/Industries of Hot Wire Bottle Cutter
Testronix Hot Wire Bottle Cutter is the most widely used in the PET bottle industry. PET bottles are used to pack various products such as carbonated beverages, food items and so on. Hot Wire Bottle Cutter is many in industries for various testing, some of the testing are:
Plastic Bottles Testing
Blow Molding Testing
Filling Line Testing
Stretch Blown Testing
Feature of Hot Wire Bottle Cutter
Also known as section weight cutter.
Best for accurate section weight analysis.
Rapid heating of sample cutting threads
Available in 2-wire and 3-wire configuration
Adjustable fixture to test different size test bottles