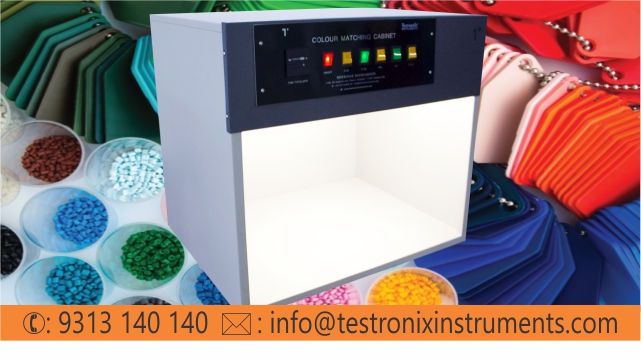 Before discussing the need for a color matching cabinet, firstly we need to understand what this testing equipment is. Well, Color Matching Cabinet is a testing instrument that helps to measure color consistency and quality. It is used in various industries and applications. Color Light box or Color Matching Cabinet is widely used in the plastic industry and textile industry. In the textile testing laboratories, this testing instrument helps to check the color difference after the textile testing like colorfastness to get the grade evaluation as per the specified standards.
Testronix Instruments brings the best Color Matching Cabinet that is quality assured with a user-friendly operating system. This testing tool by the company is highly appreciated by the lab experts because of its result-oriented performance. Moreover, the competitive price along with the quick delivery support is a plus point at the company.
Note: To check the color variation, it is very important to use a standard light source on night duty.

Applications of Color Matching Cabinet
This testing tool is widely used in various industries that have a high demand for color matching consistency and quality. For these color quality tests, this testing instrument performs the perfect job. Here is the list of several industries where this instrument plays an important role.
Automotive
Ceramics
Cosmetics
Footwear
Furniture
Knitwear
Dyeing
Printing, etc.
Testronix presents the technically advanced color matching cabinet that is equipped with different light sources to derive accurate test result data. There is no better alternative for a closer, quicker and accurate color matching solution.

Choose Testronix For Best Experience in Color Testing
With the customer-centric approach, Testronix Instruments brings quality testing machines that are prepared with fine-grade material. The company complies with the ISO, ASTM global standards that ensure quality on a large scale. While collaborating with the company you will achieve these benefits.
Quality assurance through ISO, ASTM certification.
Competitive and reasonable rates.
On-time delivery of the testing solution at PAN India Level
Proper guidance of the experts to maintain and operate the testing tool for the long run
100% satisfaction on testing result data.
Ethical business deals that are transparent.
To know more about the Color Matching Cabinet, connect with the experts at +91-9313 140 140 Or share your query through an email at info@testronixinstruments.com.