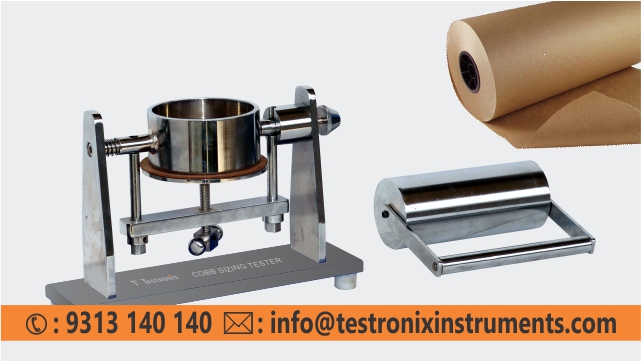 In the paper & Packaging industry, the Cobb tester plays a significant role. The Cobb testing equipment determines the amount of liquid that a sheet of paper or cardboard can penetrate. The Cobb value is calculated as the weight of water absorbed per 1 m2 of paper or cardboard in a specified time followed by standard conditions.

Working Module Of Cobb Tester

A sample is pre-weighed on a balance and then placed inside the Cobb equipment when it is dry. Once the specimen is in place, a fixed amount of water let it be 100 ml (± 5 ml) is poured into the cylindrical container, simultaneously noticing the time on a stopwatch.

Specification of Cobb Sizing Tester By Testronix

Testronix Instruments has been serving the packaging industries with many testing tools that are relevant to quality manufacturing. Cobb Tester by the company is a highly appreciated and mostly demanded tool which is best known for its accurate result, precise design, and reasonable rates. It consists of a cylindrical container that is clamped to a metal base. Moreover, it is covered with a sheet of flexible material to make an airtight seal. Here are some technical features of the testing machine.
It is made of stainless steel
Equipped with quick clamping grip of the sample
Cobb Tester has a soft rubber sealing gasket to avoid water seepage
Testronix's Cobb Tester For Reliable Result

For more than 30 years in the market, the company serves its valuable customers with quality assured testing machines that are timely tested and deliver the best results. Testronix Instruments complies with the ISO standards that mark excellence in quality all across the world. Moreover, to meet the challenge of the manufacturing process, the company delivers customized and innovative testing solutions at reasonable rates. To know more in details about the Cobb Sizing Tester, connect with us at +919313140140 or request a quotation through email at info@testronixinstruments.com.