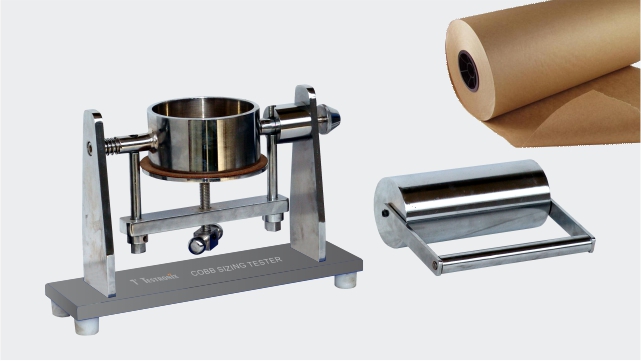 Various industries have to provide quality assurance of the products to the customers as quality plays a crucial role.to ensure quality of packaging instruments manufactures have to perform various testes before supplying products in the market. The packaging helps in keeping the inside material safe from any external damage. Hence the quality of this material must be top notch so as to ensure security. Any packaging material is always subjected to various climatic conditions which could include extreme moisture content. The packaging materials must have the capacity to absorb any sort of moisture without compromising on the quality. The manufacturers of the packaging materials also have to ensure the moisture absorption capacity.
Cobb Sizing Test and its application
Cobb sizing tester measures and calculates the water or any fluid consumed by the paper, fibreboard, and paperboard in at any given point of time during varied climatic conditions. The high Cobb measure of the papers and other related materials determines the capacity of the materials to contain dampness.
Features Cobb Sizing Tester in packaging industries
Testronix is the leading manufacturer for packaging instruments and provides the best quality Cobb tester which adhere to all industry standards such as TAPPI – T 441 and ISO.
The following is the features for the Cobb tester:
Features:
Durable structure with corrosion resistant main body
Light weight and resilient structure
Rapid Locking Mechanism
Single handed easy operation
Highly accurate test results
Sample Diameter 130 mm (approximate)
Depth of cylinder 60 mm
Diameter of rubber pad 145 mm
Water level indicator in cylinder 10 mm and 25 mm
Weight of roller 10Kg (approximate)
Stainless steel/ metal steel robust structure
All instruments manufactured by testronix are reliable and the best solutions for quality testing labs in all industries. Testronix provides the best quality equipments at the most affordable prices. The Cobb sizing Tester is an easy to use instrument and does not require technical knowledge. Testronix provides a high quality products to ensure accurate results at all times. The device is handy is made of metal steel so as to ensure durability.
For reference- Formula to Calculate COBB Value
Cobb Value = Weight of the sample after testing – Weight of the sample before testing
For more information regarding the packaging testing instruments manufactured by testronix visit the website https://www.testronixinstruments.com/paper-packaging-testing-instruments/ or contact +91-9313 140 140.