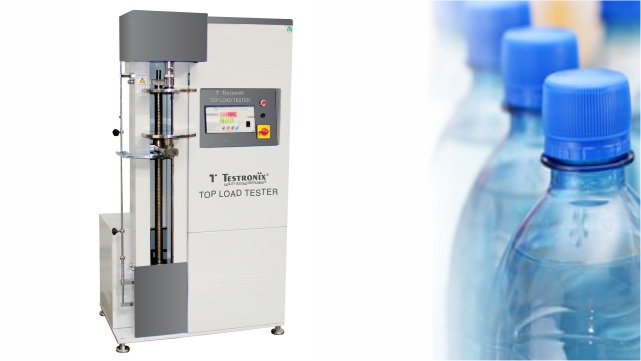 The product protection for consumable goods is must. Therefore, PET bottles, cans, and cartons have to withstand the compressive forces incurred during handling, storage, and transportation. Top-Load Testing or crush testing or compressive strength testing is the key to design and quality of a container. It evaluates the structural resistance of a packaging material to the point of deformation or collapse.
To ensure the packaging integrity, packaging manufacturers use top-load testing. This process is also known as downgauging or "light-weighting". This process has high environmental and business significance. Testronix brings globally certified and quality assured lab testing instruments that provide accurate and precise results.
Industries That Use Top-Load Testing
Manufacturers of all kinds of containers especially plastic have to ensure that products quality can withstand the compression forces while filling process and warehouse stacking.
There are various industries that use Top Load testing machines to bring quality in their products. Here are some of them:
Manufacturing of PET bottles has to follow strict environmental standards to limit the use of material. Production of PET bottles is a long and involved process that begins with the bottle as a four inch pre-form. Top-load testing reduces the possibility of PET bottles experiencing damage or crush failure during the different phases of the supply chain.
The food packaging covers a wide range of materials to provide the right quality to the customer. The material structure, the handling activities, humid resistance like factors become mandatory for the manufacturers. Here, Top load testing plays an important role to measure the structural strength and stability of PET bottles.

Choosing a Right Testing Instrument
Top-load testing is one of the most accurate methods for determining container's integrity. The Testing Instruments should be robust enough to cope with varying conditions. It must provide consistency, accuracy, and reliability, but should be easy to use and maintain. Testronix, being the reliable name in testing instruments manufacturing, assures you to provide the globally certified testing machines at reasonable rates.
Key Features and Configuration
The key features of the Testronix top-load testers are:
It can be operated easily.
It can measure peak compressive strength.
It can also measure load at a specified deflection.
Conclusion
Testronix top load testers are available with the multiple benefits and affordability that includes:
Economic Price: The Company assures the budget-friendly price of the testing machines.
Usability: The testing instruments are easy to use with a single push-button for quick and easy use by any operator.
Global Certification: These instruments are available with certification from global standards that denotes the quality.
Customer Support: The Company assures an excellent customer support to its associates.
The list is endless. Join us to have a long lasting business relationship. Connect with us at +91-9313 140 140. You can also email us your query related to testing instruments @ info@testronixinstruments.com