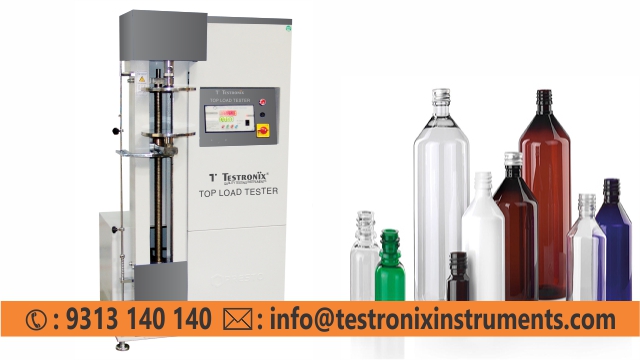 PET packaging has features that are resistant to a variety of environmental conditions. That is why it has become a favorite of producers and consumers as well. Also, there is human speculation that plastic can carry a wide variety of internal and external features. Therefore, as a consumer, we rely more on plastic packaging than on metal or glass packs. PET packaging is reliable due to its non-functional properties. Therefore, it is able to store acids, detergents and other similar substances. Plastic is available in a variety of forms and PET is one of them and is considered the highest quality in the consumer goods industry. To make the whole product successful, it is important that you put it under test conditions.
Top Load Tester is widely used in the PET bottle industry. This test reveals the carrying capacity of the bottles when stored in a warehouse or during transport. In this test, the load from the top is applied to the template in a controlled manner. This force is used until a deformity or binding occurs.
Why Top Load Testing is Important?
PET bottles are used for various purposes such as liquid storage, powder, capsules, sweets etc. Regardless of the application, there should be a minimum known resistance to disability. In the event of a high failure test, the design of the PET bottle should be reconsidered.
Top Load Tester determine the weak points in the bottles as the bottle falls freely carrying the weight. Apart from this, this test detects errors in the beat molding line when folding occurs again in the same place.
Down gauging is very much in trend because of its cost-effectiveness. While reducing the thickness of the bottles, there may be opportunities for the development of weak points. In research labs, tests and tests are performed backwards. High load testing plays an important role during the evolution of low-cost engineering bottle.

Features Top Load Tester in Pet & Preform industries:
Inverted straight plates for zero slip gripping support
Digital Display for accuracy and repeatability
Option for user to switch off the machine in case of buckling of the test sample.
In-house calibration facility
Program profile for programming test parameters and product identification in test report
Peak Load Hold Facility (save in memory)
Highly accurate test results under compressive force