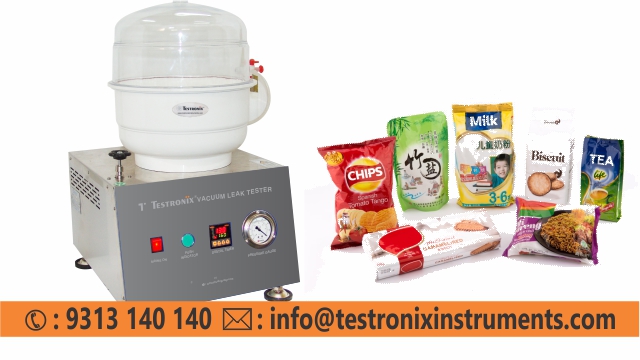 Leaks are bad news for many packaging manufacturers. In a package where more oxygen is purified, a minute hole, allows oxygen from the air to enter the packet faster. Within less than three days, the oxygen levels rise enough to allow the bugs to enter. Bacterial growth grows and threatens the image of the mark. Leaks in plastic bags are required to be inspected using the Vacuum Leak Tester. It uses a high vacuum to perform leak tests on products.
The issue of leaks is a sensitive one and therefore a series of tests should be performed. Leakage means life on the lower shelf. A rewarding package in a large market has negative consequences such as low customer satisfaction, product memory, reduced shelf life and product damage. As packaging materials grow, the leak-related problem becomes more important. People are more responsive to packing in terms of consumer feedback.
For a long time, the only way to check for leaks was to squeeze each package whether it was soft or not. The testing process has now been partially automated. In an instant the packet is checked and the defective pieces are removed .
Leaked packing causes losses throughout the production chain. Leak detection is a cost-effective tool. When using 100% leak detection a few people are required for the final test. The user spends less time on testing and the leak detector does not bring additional suspensions due to repairs.
The practice of moving to traditional items such as cans, glass etc. which can be easily closed in relation to flexible packaging.
The most important factor in the production of quality packaged product that meets known standards.
The Vacuum Leak Tester is a high quality test kit used for installation to incorporate quality control methods into packaging systems. Ensures that integrated products are closed under specified. Key benefits are seen in various industries from package manufacturers and converters to end customers in packaging meat, seafood, coffee, snacks, frozen food baking, medical and pharmaceutical etc.
Vacuum Tester is used to test various types of packages such as Foil Packing ,PET Bottles,FMCG Goods Packaging , thermoform packages etc.
The need for a high quality leak inspector in the packaging industry is highly recommended as it accurately identifies leaks in minutes on packaging. Testronix test Instrument is developed according to test standards such as ASTM D 4991-07 (2015), ASTM F 2338-09 (2013).