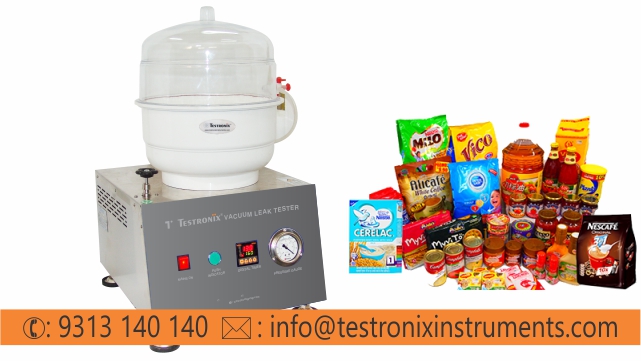 The Vacuum Leak Tester is a very important tool that helps in quality control. Used on packaging industries. This tool helps detect any types of leaks in various products made by industrial experts in the packaging industry.
The Testronix Vacuum Leak Tester offers high quality and accuracy. It has state-of-the-art technology to measure and detect any leaks in the template. The tool is simple too Easy to operate. The precise mechanical data helps the manufacturers to detect any imperfections in the production process. For manufacturers to offer high quality products to their customers who remove this imperfection is very important.
Important Features of Vacuum Leak Tester:
Microprocessor-based accuracy and reliability
Meets the USP 28 customization definition
Automatic sample testing using a simple relaxation method
Pressure, Inlet Vacuum Pressure setting, and Preset Timer function with precision and duplication
Variable Time Units in Hrs: min: sec

What Industries Are It for?
Mechanical leak test is performed on packaging, bags, flexible packaging ,Pouches etc. Determines the error in the packaging process and helps strengthen the integrity of the packaging. The Instrument is designed in such a way that it can capture all kinds of defects of solid and flexible packages. It is widely used in the F&B industry and in medicine/pharmaceutical industries.It has multiple applications and is not limited to a single industry.

How should tests be performed to obtain improved results?
1. Follow the steps of the appropriate test procedure:
2. The sample to be tested is placed in a desiccator or vacuum kit.
3. The lid is closed to create space.
4. For a specified period of time, a vacuum is defined inside the desiccator.
5. The vacuum is set according to the test requirements or the level of testing.
6. As soon as the test is started, due to the negative pressure created by the vacuum, the air inside the package begins to explode.
7. A sample is made to hold this position for a period of time. After that, a vacuum is removed.
8. The air inside the package starts to decrease.
If the package retains its original shape and size, it is declared a pass. On the other hand, if a package falls, it is declared a failure.
Testronix manufactures a wide variety of leak test leaks with customized specifications to meet the needs of a large number of customers at a time. The instruments are designed according to the standards given by the various rating authorities.