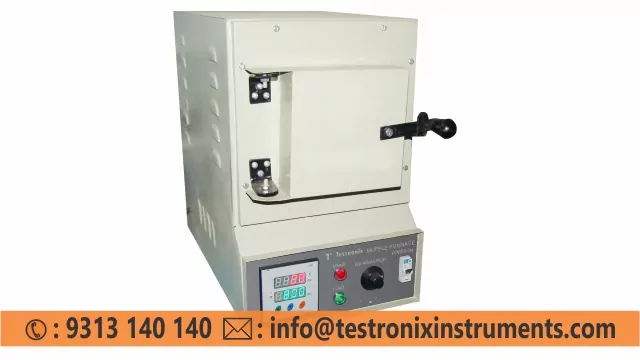 The Testronix muffle furnace is used to determine the ash content of a specimen.
The percentage of ash in a material gives important insights into the properties of the substance.
The Testronix muffle furnace is specially designed as per IS & ASTM Standards.
It finds wide application in various fields such as Medical research, agricultural, industrial, metal treatment, rubber & wool industries, metal treatment, ash determination.
The percentage of ash is calculated as the index of added mineral matter or loading.
A known weight of the specimen is burnt, the ash is weighed, and the percentage is calculated.
The Testronix Muffle furnace is finished in Autumn Gray & Blue combination painting to give it a corrosion resistant finish.
The Instrument comes complete with Instruction Manual; Electrical Wiring Diagram & Calibration Certificate traceable to NABL approved Labs.
Optional Accessories:
Digital Timer
PID Controller with Computer/printer interface.

Useful for :
Foam And Gaskets
Wood & Laminates
Polymers
Muffle Furnace is a unique test cabinet designed to detect the percentage of ash content in a particular test specimen like rubber, elastomers.
It is Bench top model and is used to evaluate the amount of inorganic compound in a test material.
Temperature sensing through J-type sensor.
Highly accurate test results under uniform temperatures.
PID Control for Temperature.
High Grade density imported Glass Wool Blanket insulation.
Maximum Thermal Efficiency by insulation means.
SSR based heaters.
Auto tuning Advance PID controller
SPECIFICATIONS:
Inner Chamber Sizes Available (Other Sizes on request):
4*4*9 inch
5*5*10 inch
6*6*12 inch
Display: Graphical LCD (Digital)/LED
Accuracy: ± 5ºC
Least Count/Resolution: 1ºC
Sensor: J-type/K-type as per selection of range
Power: 20A, 220V, Single phase, 50 Hz
Timer Range: Up to 999 hrs
Temperature Range: Ranges available -
Ambient - 900ºC,
Ambient - 1200ºC
Ambient - 1400ºC
Selectable as per requirement. Other sizes available on request.
FEATURES:
Highly accurate test results under uniform temperatures in the chamber
High Grade imported Glass Wool insulation
Maximum Thermal Efficiency by insulation means.
Advanced Digital Microprocessor based PID based temperature controller
Auto tuning Advance PID controller
SSR-based output control
Accessories:
Gloves, Tonge Set, Crucible
Optional Features:
Other Size and temperature range available.
Timer available on request
Prima Series Muffle Furnace also available
Highlights:
Insulation: High grade ceramic insulation
Handle: Yes
Exhaust Port: Yes
Material: Mild Steel (Outer Body) Ceramic Brick (Inner Body)
Finish: Powder coated Havel Grey & Dark Grey combination finish and bright chrome / zinc plating for corrosion resistant finish
Model MF - 4 (900)