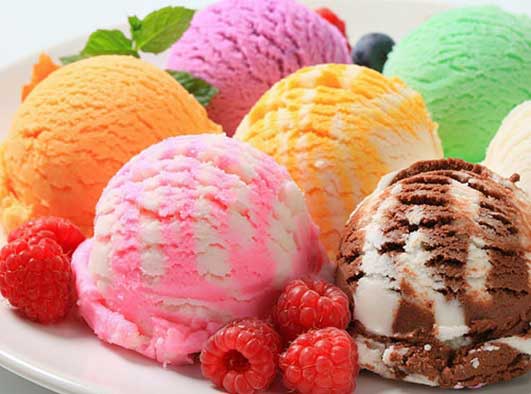 Nowadays people are so obsessed with the quality that even small things, like ice-cream, undergo for a quality check. Now the amazing thing here is that it is not being tested only for its taste, or food quality, it is being tested for its colour uniformity. Yes, colour plays an important role in enticing a buyer towards the product. Especially, when ice-cream is available in so many flavours and their respective colours. As ice cream doesn't get its colour from real ingredient of flavour, like it is not getting brown colour because of the chocolate present in it. The taste comes in the ice cream from the artificial flavours added into it. There are rare cases when real ingredients are used to induce the flavours.
The additives used in the ice creams gives a stimulus to the brain that yellow ice cream colour has mango flavour, pink ice cream has strawberry flavour and so on. Apart from this, this brings a consistency in the conditional response of the buyer. If someday strawberry pink becomes darker pink, it would not stimulate the brain to buy the ice cream. This is why, having a uniform colour is important for this industry. For right colour quantification, it is very important to adopt right colour measurement technique.
Textronix offers a wide range of colour measurement instruments like spectrophotometers and colorimeters for different industries. These instruments can measure transmittance and reflectance. These instruments are suitable for measuring solid, liquid, semi-solid and powdered samples. It comes with additional accessories like powder set box, software for report generation. The range includes TP 800, TP 810, TP 310 and TP 110. The instruments work on the advanced principle of colorimetry and spectrophotometry. The instruments have an aperture, a detector and an incident light. The incident light is made to fall on the sample.
Technical Specifications of TP800 Spectrophotometer
Provides 45 ring-shaped illuminations
Fitted with a silicon photodiode array type sensor.
Aperture Size is 8mm
Reflectance range of the device is 0-200%.
Integrated sphere size is Φ58 mm.
Combined LED light source is provided with the device.
Wavelength range of instrument is 400 – 700 nm
Observe the specimen from two orientations: 2 Degree & 10 Degree.
Display Spectral Value in graphical format, Colour Difference Value (also in Graphical representation), Colour measurement value, Colour Simulation, PASS/FAIL Result, Colour Offset, language setting, reverse prompt, tolerance prompts, restore factory setting, time setting, and other functions.
Provided with USB/RS-232 data interface.