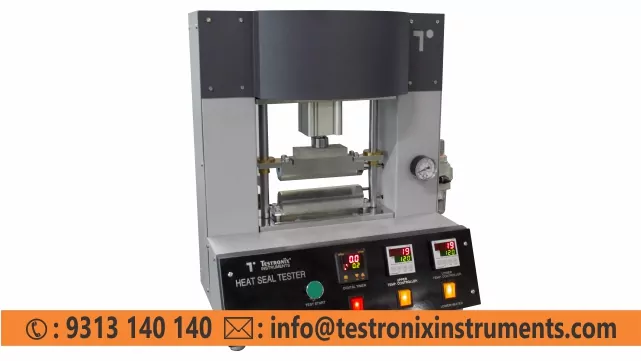 Heat Seal Test is widely used in the packaging industry to determine the appropriate marking parameters (temperature, duration and pressure) of materials, such as flexible packaging, thermoplastics and plastic labels.

Lab Heat Seal Tester is a device used to measure the amount of heat and temperature characteristics of films used in flexible packaging, bags and pouches.
The best Laboratory Heat Sealer available in India is provided by Presto Testing Instruments. The instrument helps test best suited temperature , pressure and dwell time for best results and production line setting .

Testronix Heat Sealer:
The heat sealer is a very importantinstrument and is widely used in the field of paper and packaging.
Testronix heat seal tester ensures quality accuracy and precision making it easy to use.
This test helps to measure the effectiveness of heat seal for films, plastic films used to package different food products and other materials.
This also applies to thermoplastic materials such as HDPE, LDPE, PP, PE
Temperature,time and pressure changes can easily be made by the user to derive the best suited results.
Testronix heat sealer is manufactured according to industry standards ASTM F 2029
Product Specification:
Temperature: Ambient to 350ºC
Accuracy: ± 1ºC
Minimum Count / Resolution: 0.1ºC
Power: 220V, Single phase, 50 Hz
Marking size: 150 * 15 mm Or 300 * 15 mm
Temperature Control: A four-digit PID
Dwell Temperature Time: 0.1 - 99.9 sec
Temperature Sensor: Pt-100, Platinum Resistance Temperature Detector (RTD)
Pressing pressure mark: 2- 6 Bar
Plastic Film Inspection / Flexible Packing

1. Seal Performance -

Plastic films are used to pack a variety of products. They have helped producers meet the needs of different markets - enabling them to achieve more with less. The popularity and use of plastic films has increased over time.

In fact compared to glass materials, using thermoplastic or flexible materials is more economical. However, it is very necessary to ensure that flexible plastic materials are proof tested for leakage and heat resistance.

Lab Heat Sealer and Hot Tack Tester are reliable and efficient test equipment, can perform operations on adhesive films, plastic films and various other packaging products. Therefore, the need to make packaging more efficient and provide world-class standards is being met.

2. Adhesive Strength -

Post sealing Peel off tests can be conducted which confirm the ability to adhere to standard requirements of packaging films that are widely used to heat packaging materials.
Peel Adhesion Testing of different types of thermoplastic films that can be sealed with different temperatures, specific time and specified pressure, can be accurately measured using the Peel off Tester.

System decision-making becomes easier helping check the durability and shear strength of items such as adhesive tapes, paper, and similar flexible products.

Testronix Lab Heat Sealer provides reliable results and can be used to compare batch-to-batch comparisons, as well as the quality of the thermoplastic range, flexible packaging and packaging materials. If you are experiencing any packing inspection or rejection challenge, contact www.testronixinstruments.com today or call +91-9313 140 140 for assistance.