The tensile strength testing is considered to be one of the essential quality tests that will be performed on the materials to determine the elongation strength of the materials. Tensile strength tests provide critical insights into materials' structural integrity and their suitability for specific applications by assessing factors like yield point determination, ultimate tensile strength measurement, elongation assessment (strain), modulus of elasticity determination and much more. If you are looking for an accurate and standardized lab testing instrument to test the tensile properties of the materials then you should consider a digital tensile tester. This is one of the high-quality lab testing equipment that helps the manufacturers in calculating the tensile force which acts on the specimen.
This high-quality lab testing equipment has been designed as per industrial standards including ASTM D412, ASTM D429-73, ASTM D624, ASTM D638-01, ASTM D76, IS 13360-5-7, IS-3400. This will ensure accuracy in test results.
Here, we will discuss brief information about the Testronix tensile strength testing machine and its highly advanced features that make it easy for manufacturers to conduct tensile strength tests on the machine.
Introduction to Tensile Strength Testing
Tensile strength testing is considered to be one of the essential steps in assessing the mechanical behaviour of various substances under tension. By subjecting the tensile strength of the materials, manufacturers can easily test whether the materials are suitable to be used accurately in intended applications. Testronix digital tensile strength testing machine will help the manufacturers in testing the durability and reliability of diverse components such as metals, plastics, textiles etc.
It comes with an advanced load sensor and has been made with a highly rugged and robust body to make it easy for the manufacturers to conduct quality tests on the materials. Testronix is one of the top manufacturers of tensile strength testing machines and offers the best price for this quality testing equipment.
Now, let us discuss brief information about tensile strength testers.
Test the tensile ability of materials with the Testronix tensile strength tester
The Testronix tensile strength tester is an advanced lab testing instrument that is used to measure the tensile ability of materials like plastics, rubber, etc. With its precise tensile strength measurement capabilities, manufacturers can ensure the quality and reliability of materials so that they can withstand the maximum force that will be applied to them.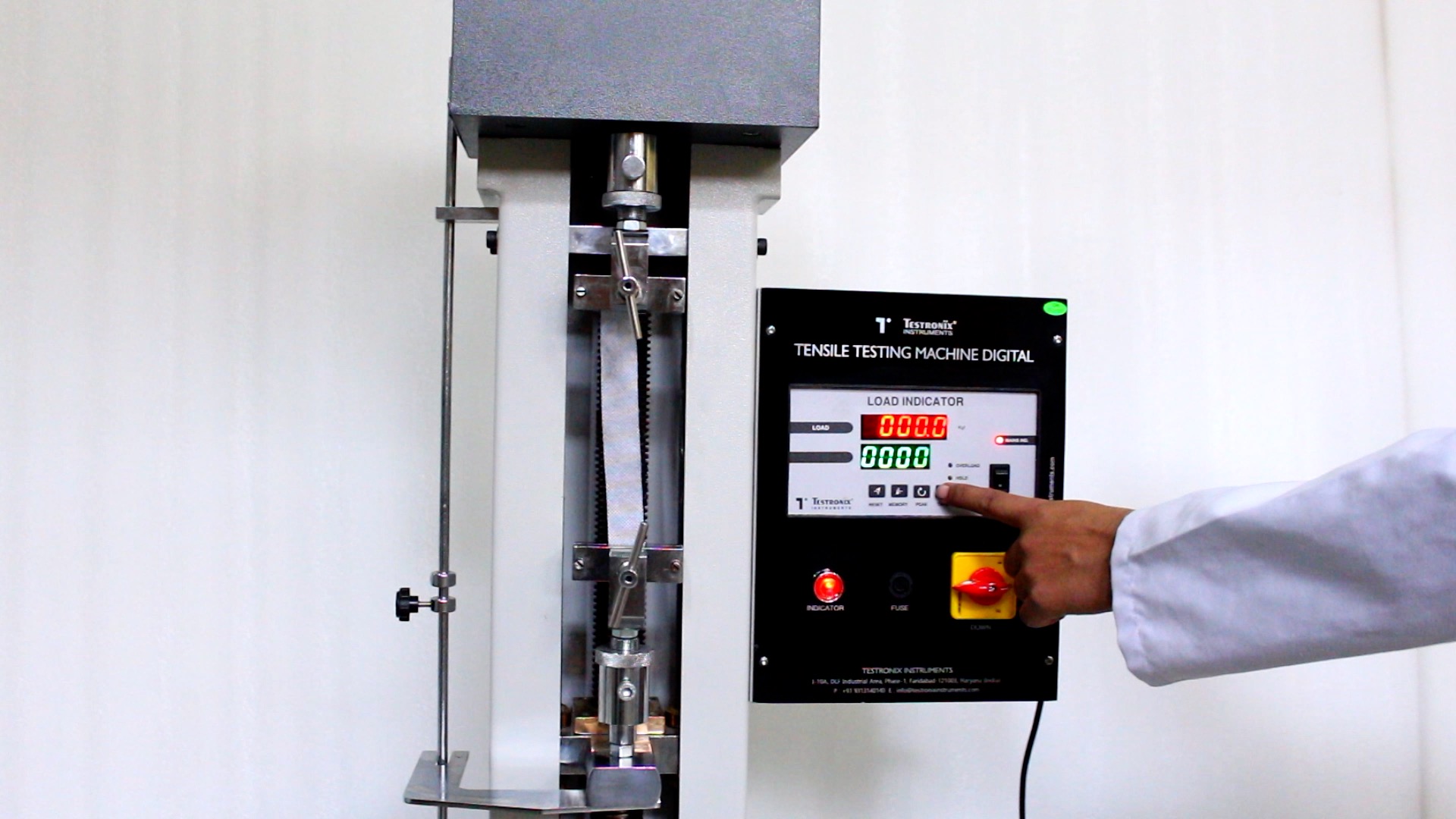 This testing equipment has been equipped with user-friendly controls and customizable testing parameters that make it easy for manufacturers to conduct quality tests on the materials.
Its robust construction guarantees durability and stability during testing procedures, providing accurate results each time. The Testronix tensile strength tester sets new industry standards by combining technological innovation with exceptional performance in order to meet even the most demanding requirements of quality control professionals worldwide.
Below we have listed the top features of this quality testing instrument:
Advanced load sensor sensing through advanced electronics.
Highly sensitive load sensor
Rugged and robust body
Safety limit switches for over-travel safety
Highly accurate micro-controller based system controls
Peak Hold facility available
Precise elongation feature
Powder coated corrosion-resistant structure
Ergonomically designed structure
Single-column rugged structure
Technical specifications of tensile tester
Accuracy – ±0.5% of Load Cell Capacity
Travel length of the grips – 25mm – 700mm.
Motor – 1/5 HP, – 1440 rpm, 1 phase power supply.
Grip to grip separation: Min 25mm and max 700mm
Types of grips (optional and additional)
Flexural
Compression
Plate Wedge Type
Roller Type
Vice grips
With these high-quality features and technical specifications, manufacturers can easily perform tensile strength tests on the materials. If you want to know more about the price of this testing instrument then you can give us a call at +91 9313 140 140 or email us at info@testronixinstruments.com. Our team of technical experts will consult you regarding all your needs and queries.