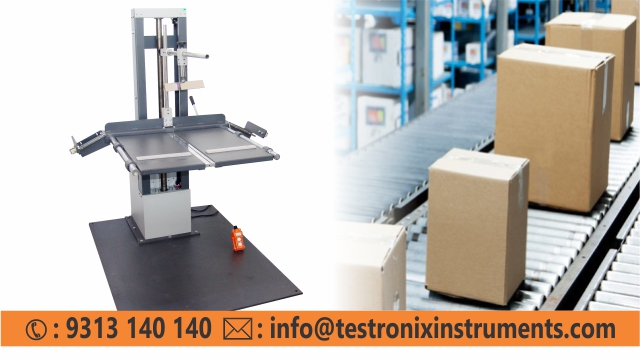 Packaging containers are often prone to dropping as we all understand. The drops can happen outside the shipment process or else, just as the manufacturer loads the packaging box with the material during transit. Whatever the case may be, dropping is a slip that can happen unavoidably and accidentally, any time. Testronix Instruments brings Drop Testers to ease out the accidental mishaps and minimize the risks.
The Indian Standards Institution clearly chalks out, especially during transit and shipment drops of a packaged product in IS:7028 Pt IV. As per this point, Indian Standard Performance Test for Transport Packages, drop testing equipment becomes an essential testing machine to check for quality control. It ascertains the transportability of a container.
Functioning of Drop Tester
A drop testing machine is typically fitted to measure an angular drop. This will lead the tests through all kinds of angles that a box is prone to drop from. The package that needs to be tested is placed on the resting table. Thereafter, a box is attached to a vertical column of the machine, which provides the mechanism that releases the resting table instantaneously. The drop heights can easily be adjusted while this box is balanced by a counterweight over a pulley. When the lever is pressed on the box, the package is free to fall on the platform at the bottom. This fall is straight and perfectly vertical, as the machine is sturdy and easy to operate. The key features are stated as under.
Key Features of Drop Tester
Accuracy and precision
Reliability and sturdiness
Follows International and Indian Standards
Corner drop facility
Drop testers most certainly test the force of the external impact over the product that is packaged well yet may have unforeseen circumstances that might bring harm to the components. This is what the drop testing instruments at Testotronix aim at, with the robust quality with which these machines are built. The drop tester machine comes with quality that measures the ability of corrugated boxes. This goes on to include a variety such as the fibreboard cartons and containers that are enabled to stand with vertical impact in free drops.
In order to completely check the strength and ability, the drop testers are used not just once but many times. This helps to analyze various conditions that occur on a package during transit and handling.