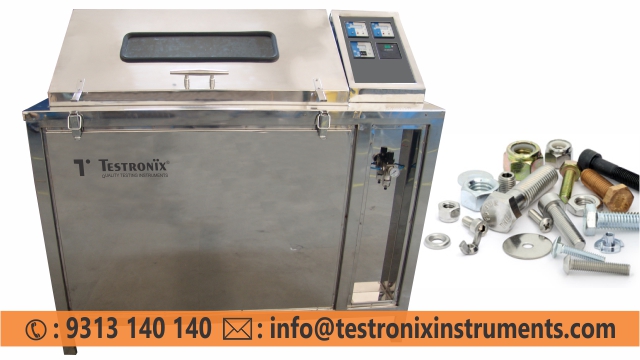 Salt spray chamber is one the most accurate instruments for measuring the corrosion resistance of coating when exposed to highly corrosive environment.
In industries the material is exposed to various types of climatic conditions & chemical fumes which cause corrosion of components and parts.
Salt Spray Chamber is made as per ASTM B117 and JIS 2371 which is used for conducting Neutral Salt Spray Test or NSS test on Meta Surface Coatings.
The testronix salt spray chamber is a touch screen model and provide accurate results. The touch screen further enhances readability and makes the instrument user friendly and easy to operate
It follows all industry standards i.e. ASTM B117 and JIS Z 2371.
A salt spray chamber plays a pivotal role to test the specimen and analyses the quality of material being used by manufacturers.
It is used for checking the resistance of the coating towards corrosive environment.
The Salt Spray Tester generates an accelerated form of Salt laden environment inside which the specimen are tested for its quality.
The testronix salt spray chamber consists of a triple wall which ensures 100% insulation.
Testronix manufactures the best salt spray chamber and is the most reliable equipment for checking the corrosion resistance of surface coatings when exposed to a salt laden environment.
It provides complete flexibility in simulation of real life weathering conditions.
The test temperature in the chamber is user adjustable from ambient to +40°C and is controlled by a PID controller system.
This time-tested product has been specifically designed to assess the rust-proof ability of components to withstand corrosion due to atmospheric conditions.
The testronix salt spray chamber is a powerful tool that eases the analysis of corrosion resistance for a wide variety of sample types.
A special zero corrosion PT 100 sensor is incorporated in the apparatus.

The Salt Spray Tester is designed as per various international Testing Standards which includes, ASTM B 117 and JIS Z 2371.
The chamber incorporates the latest technology including an Air Regulator which regulates the air flow from 0 to 30 psi.
The Testronix salt spray chamber is triple walled and is fitted with a glass wool insulation, which ensures that the results are accurate and reliable enough to meet the international standard of testing.

Other than these features like Automated Air Purging and Online Fog Collection makes it easy for the user to perform an error free test.

AVAILABILITY:-

MATERIAL that can be tested :
Electronics
Fasteners Testing
Non-metal Materials
Springs Testing
Bath Fittings
Hardware Items
Handicraft
White Goods
HIGHLY SPECIFICATIONS ARE AS FOLLOWS:-
Testronix Salt Spray Tester has been designed strictly as per the relevant standard to assess the ability of rust proofed components to withstand corrosion due to atmospheric conditions.
It is triple walled with glass wool insulation.
Temperature Range: Ambient to 40 Degree Celsius
Temperature Accuracy: +/- 2 Degree Celsius
Temperature Control: Built-In PID Temperature Controller with special zero corrosion PT 100 Sensor
Air Regulator: Ranging from 0 to 30 psi is provided.
Construction: FRP–Fiber Reinforced Plastic
Related Standards: JIS Z 2371, ASTM B117 – 11