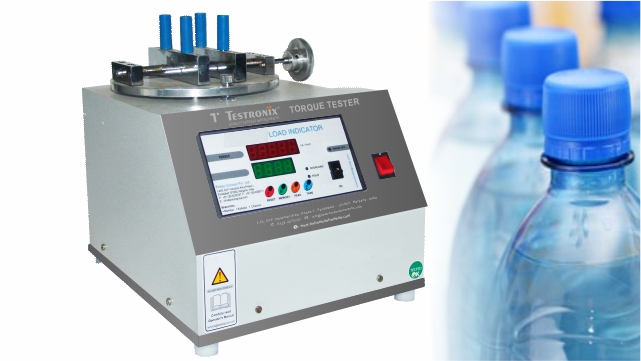 Bottle manufacturing is a large industry and requires a lot of attention when it comes to the quality and durability of the bottle. When it comes to bottle manufacturing one of the most important key characteristics is lid/ bottle cap which needs to fit correctly and precisely so as to secure the bottle completely.
The quality of the bottles cannot be compromised upon as it is interlined with the safety and sanitisation. In the PET bottle manufacturing industry manufacturers pay utmost attention towards the torque of the bottle cap and the force required to open it by the end users.
Application and removal torque or on and off torque calculates the force required to open and close the bottle cap when exposed to force. It measure the force which is required for removal of the bottle cap.
If the bottle cap is extremely tight it may become difficult for the end user to open the cap. Moreover, if the cap is not fixed tightly it may lead to leakage during transportation.
Hence the cap of the PET bottle must be adequately tight and must maintain equilibrium so as to serve both purposes. To solve this problem Testronix has launched the torque tester for PET bottles to test accurately the torque required to open the cap. It is a fully automated model which consists of digital display for accurate results.
Another method which is widely used by industry experts is the sharp twist to break the cap free which requires a higher torque as compared to the previous method. The difficulty faced in this regard is the amount of torque required to break the cap. The testronix torque testing machine helps in solving this problem of the manufacturers and provides them with precise data. With the help of this data analysis the manufacturers can improvise on the quality and the pressure required to open the cap. This improvisation can help them in improving the standards of the products and their brand.
Testronix Instruments provides the torque tester at affordable prices and is the best solution for manufactures. This instrument is not only user friendly and easy to operate but also accurate.
It is a portable model and consist and has a high quality rugged body. It is a powder coated instrument and adheres to all international and Indian industry standards.
Testronix Instruments has ensured not to compromise on the quality of the instruments and to serve the manufacturers with nothing but the best.
You can test the top load strength of PET bottles by following some simple steps. If you find any difficulty in conducting the test, then give us a call at +91 9313 140 140 or email us at info@testronixinstruments.com. Our experts will get in touch with you to assist you regarding all your queries.