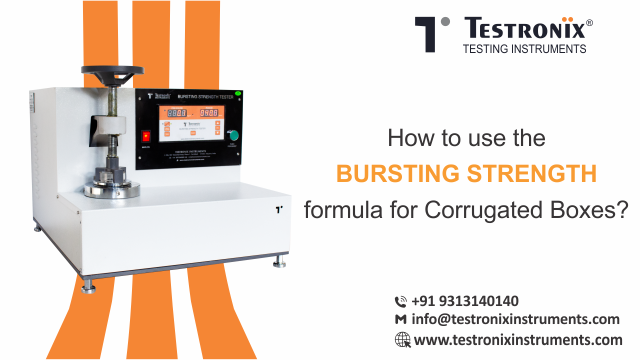 The corrugated box is one of the widely used testing instruments used in the packaging industry. Its quality matters the most in terms of holding the material for a longer time. The high-quality corrugated boxes can withstand the pressure and will not get burst easily. To test the bursting strength of these boxes, you can easily make use of the Testronix bursting strength tester. This is one of the highest quality testing instruments that provide you with accurate testing results. We have different models of this testing instrument available to us. Here we will discuss the bursting strength tester digital model from Testronix and how you can calculate the bursting strength with the bursting strength formula.
Where should you use a bursting strength tester?
Testronix bursting strength tester digital model is one of the highly accurate testing instruments available in the market today. With its two-in-one feature, you can easily calculate the bursting factor for both paper and corrugated boxes. This testing instrument has been made with all industry standards and contains a digital LED display so that you can view the test results accurately. This testing instrument from Testronix has a special feature of rapid result transmission. The bursting strength of the test specimen is expressed in terms of kg/cm2.
You can easily make use of this testing instrument for different applications like:
Paper boards
Corrugated boards and boxes
Industrial fabric and solid fiberboards
Filter cloth plastic films
Foils
Sheets
Thus, whether you are working in the paper and packaging industry or textile industry, you can easily make use of this testing instrument to calculate the bursting strength. Now, let us focus on the features of this amazing testing instrument.
Features bursting strength tester digital model:
Push-Button Operation
Microprocessor-based display for accurate test results
Peak Hold facility for keeping the maximum value of test result in memory
Memory to hold up to 9 test reading
Highly accurate test results under multidirectional Force
Digital screen for accurate results
Strong Gripping clamps
Grooved structure of Test Specimen Holder to provide a firm grip
The firm grip of the specimen if the operating wheel is tightened uniformly
Available in 0 – 60 kg/cm² on request
Available in computerized model with thermal print facility
Pressure transducer model for accurate results
These are the features of this amazing testing instrument that makes it different from other brands. Now, we will discuss its technical specifications so that you get to know more about this testing instrument.
Technical specifications of bursting strength tester-digital:
Capacity:-0 – 40 kg/cm²
Display:-digital
Accuracy:-± 1% within 10% to 90% of entire range as per IS: 1828 with master gauge.
Least Count/Resolution:-0.1 Kg/cm2
Power:-220V, Single phase, 50 Hz
Test fluid:-Glycerin about 98% purified
Rate of fluid displacement:-95 cc/minute
Motor:-1/4 HP Single Phase , 1440 rpm
Material:-Mild steel, powder coated
Dimensions:-540x 600x 450 mm
Measurement of bursting strength with bursting strength formula
When we think of delivering quality packaging material to our customers then it is very important for you to test different properties of it. One of the most important properties that you can test is the bursting strength. It is known as the rate at which the packaging material will burst under certain pressure. The boxes with high bursting resistance will easily sustain well and can be used in the packaging of material. Whenever we are going to calculate the bursting strength of the material, then we need to take care of factors like bursting strength, factor, and index.
Using this below mentioned bursting strength formula, you can easily calculate bursting factor and index:
Bursting Factor: Burst strength (gf/cm2) / Grammage (gf/m2)
Bursting Index: Burst strength (kPa) / Grammage (gf/m2)
In these formulas, different abbreviations have different meaning:
kPa = kilopascal
Kgf = kilogram force
Gf = Gram Force
Grammage = Base weight in units of gf/m2
To know more about our different models of bursting strength tester, give us a call at +91 9313 140 140 or email us at info@testronixinstruments.com. We will surely assist you regarding this testing instrument.