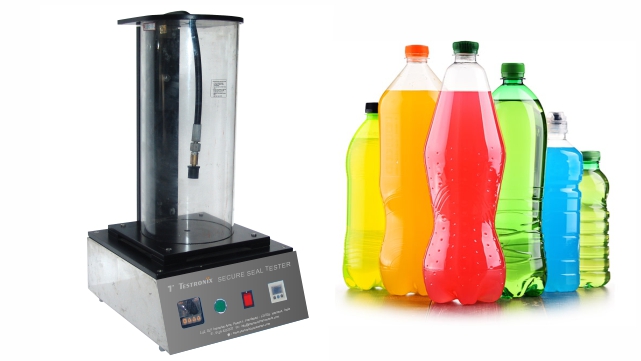 PET bottles are have an important and diverse application in the packaging and are used for packaging a variety of products ranging from food items, liquids, aerated drinks, chemicals and pharmaceutical products and many more. It is necessary to ensure that the quality of these bottles is up to the mark so as to ensure 100% protection for the material packaged inside the bottle.
There have been various instances where there has been deformation of the bottle seal which indicated poor quality of the bottle seal. The best instrument which can be used to test the quality of the seal is the seal integrity tester by testronix. During the testing procedure the specimen/ sample is put inside a vacuum water condition. At that particular time air is pass through to check whether or not there is an air pocket or hole in the bottle.

Testronix manufactures the latest technology secure seal tester which helps in identifying discrepancies in the sample. It is manufactured keeping in mind guidelines issued by authorities and adheres to all international standards.
The instrument is manufactured in- house with the help of the latest cutting edge instruments not compromising on the quality. The test results can be easily collected as the instrument is user friendly and easy to operate. The instrument is available with testronix at cost effective prices. The devices requires a pressing factor of 175 psi packed air which helps in location air gaps. High-pliable Plexiglass material is used to manufacture the instrument which further enhances the quality.
The secure seal tester helps in identifying discrepancies in the sample. With the help of test results the manufacturers can improvise on the quality of the bottle and provide the customers with nothing but the best. Testronix has been offering the secure seal tester in many industries and is the most sort after brand. Testronix also aims to provide after sales support to the customers.
For more information regarding the packaging testing instruments manufactured by testronix visit the website https://www.testronixinstruments.com/ or contact +91-9313 140 140.