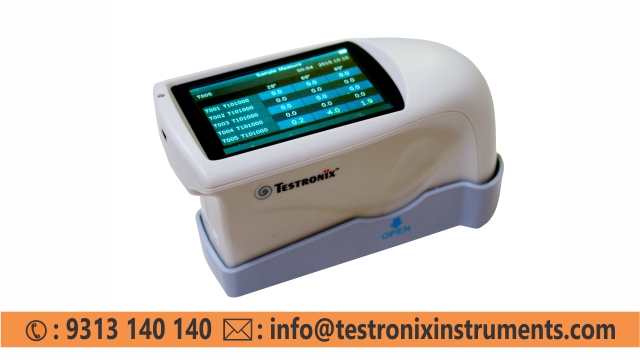 Testronix Instruments have manufactured Digital Glossmeters for the benefit of those product makers who want accurate readings for measuring the gloss on a given surface. A gloss meter that is manufactured at Testronix Testing Instruments is used to measure the specular reflection gloss of a surface or a material for the benefit of its customers. They can use Model No. TKT 862, which is the Glossmeter Tri Angle, used to measure the gloss reflection on the surface of the material.
A variety of products that belong to multiple industries can be tested by this testing machine with digital accuracy. Our customers fall from diverse industrial backgrounds hence benefit from this model of Digital Gloss Meters. The list covers an extensive range to use the appropriate testing device to test the gloss of different products such as:
Plastics
Metals
Paints
Papers
Ceramics
At par with global standards, this testing instrument, Glossmeter Tri Angle, complies with various standards such as:
ASTM D2457
ASTM D523
ISO2813
GB/T 9754
Features of Digital Gloss Meter
The features of the digital gloss meter adhere to the latest and modern methods that bring ease and comfort to the users. Its Capacitive Touchscreen feature is at par with any mobile device that is easy to use. Aesthetic design with ergonomics structure makes it attractive for customer usage. The testing instrument provides a great correlation of shining or visual gloss when the sample is placed flat.
With a software-based output of test results, the gloss meter tests with extreme accuracy. Moreover, the print facility is also made available through software with an option for export to pdf and word file for all test results A simultaneous measurement by Triple standard angles- 20-degree, 60-degree, and 85-degree provides excellence in measurement and leaves no scope for any faulty reading.
The facility of auto-calibrating data is an attractive feature in this gloss meter along with the auto-save function that enables test data to be saved automatically. Other features include:
Display of multiple sets of data to make an easy and quick comparison
USB Communication Interface
Auto power-off function
Data Management feature allows check, delete, export or print record
Protective cover to protect the measuring aperture
Statistical modes to display deviation, conclusion, diagram area of test records
Portable and ease of use instrument with handy battery Glossmeter Tri Angle is designed specifically to measure the gloss of a particular surface and to ascertain the amount of light that is redirected from the material. To know more about the comprehensive range of Digital Gloss Meter, please visit https://www.testronixinstruments.com