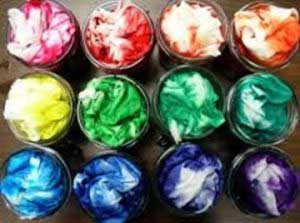 The manpower in textile and apparels industry has a lot of difference in the way they work. The colorist works on different fundamentals whereas the designer has different parameters, and people from quality check department has their own parameters to work upon, whereas textile engineers have a different criterion.
Textile and apparel industry is a highly competitive industry and to keep the position strong in the market, every day different strategies come in and goes out. In all this process, there is one team that bear the strong pressure to maintain the consistency, and that is the 'colorist team'. There is always a discrepancy between the opinions of a colorist and demands of the designer. A designer has less information how their counterparts work, what is the feasibility of the color they are asking for and so on.
On the other hand, the designer is always worried about the appearance of color on different fabrics, lights, angles etc. There is a huge difference between the fundamentals of both these teams.
How color matching devices can help in here?
Testronix Instruments have a wide range of color testing devices. So, no more guesses work. These devices are accurate, precise and calibrated to deliver best results every time. Here, is the list of most commonly used instruments in textile and apparels industry, however, their use is not restricted to this only. Other industry verticals that can employ these color testing instruments are automobiles, food and beverages, paints and enamel, cosmetics, pharmaceutical, plastic and all those that use colors in any form.
Portable Spectrophotometer – Model TP800 is a high-end color matching device. It captures the image of the sample and stores it in its memory. This stored sample is further used to determine the difference between the color of the surface under test and sample fed in TP800. A portable spectrophotometer is the favorite device of colorists for textile color matching.
Gloss meter – Triangle – This device is capable of measuring gloss factor of the surface from 3 angles i.e. 20º, 60º, 85º. The angle of measurement depends upon the topography of the surface, from matte` finish to highly gloss material. Why is this instrument important for textile color matching? Because different fabrics tend to have different textures and based upon that they reflect shine and gloss. To keep the quality factor under Gloss meter plays an important role.