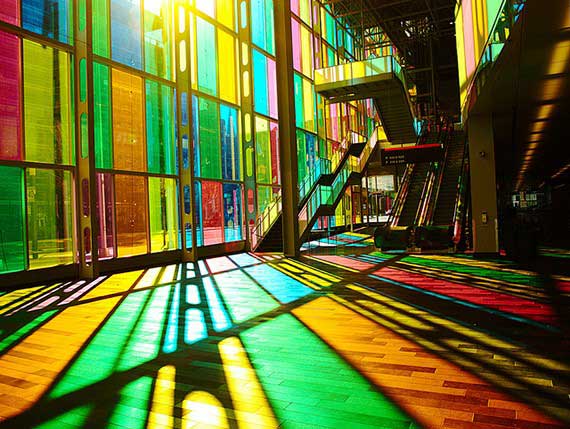 Glass offers limitless possibilities as a core structural and design element in architecture because of its beauty and practicality. Architectural glass used as a building material can unite an interior space with the outdoors, permits the creative use of natural light to illuminate interior settings, and inspires the imagination to create elegant and aesthetic architectures. In this post we will learn more about the role of Spectrophotometer in testing the quality of Glass Material.
Controlling the color of architectural glass is extremely important to ensure the creative and artistic intent of the designer, and to minimize the high cost of replacing off color panels in a structure. Measuring the color of glass is achieved in two ways; a simple transmission color measurement tells us the color of the glass as viewed from the inside, and a reflectance measurement of the coated side tells us the color of the glass as seen from the outside. The reflectance color results can help to determine the thickness of AR and other coatings.
Glass offers a near limitless medium for creativity, and can be manipulated into nearly any form and/or color of building material. Glass color integrity and consistency are essential for design and function, and require continual spectral monitoring throughout production to ensure product quality. Clarity, color, and reflectance can all be measured using spectrophotometers, and advanced technology makes this process simple and easy to achieve.
Glass color measurement is achieved in two ways: through transmission measurement or reflectance value. When measuring glass products with functional or aesthetic coatings, both transmission and reflectance measurements work together to achieve accurate color analysis. The transmission values represent the way color is seen from the inside looking out, and the reflectance values represent the color perspective from the outside looking in.
Testronix is a leader in glass color measurement and has developed a variety of spectrophotometers for an assortment of applications and purposes.
It is designed by combining the advanced principles of LED precision spectroscopy. The device helps to separate the luminance as per certain wavelength interval easily and adopts groups of the sensor to perform the precise analysis. TP800 is an accurate instrument that can measure any color. It doesn't only measure delta E and L x a x b value but also depicts spectral reflectance curve, which can easily realize color matching parameters and calculate the real factors of color formulas.